Benchtop power supply
The ES150 series has excellent lifetime and stability. Multiple power supplies can be connected in series, parallel or both in series and parallel to create numerous output configurations. Due to its small size, the unit is extremely suitable as a bench top power supply.
Standard, the ES150 can be controlled either via the front or an analog input at the rear of the power supply. Optionally, Ethernet and RS232 remote programming features can be factory installed. Furthermore, external interface modules are available to add this functionality to existing units.
High isolation voltage
The output terminals are floating and isolated up to 600 V DC. Combined with the optional 19" mounting, the power supply can be integrated into larger systems easily to power main or auxiliary devices. 
| Unit | Voltage | Current | VI-curve |
| --- | --- | --- | --- |
| ES 015-10 | | | |
| ES 030-5 | | | |
| ES 075-2 | | | |
| ES 0300-0.45 | | | |
Features
Very low output ripple and spikes
EMC surpasses CE requirements: low emission & high immunity
Excellent dynamic response to load changes
Protected against all overload and short circuit conditions
Designed for long life at full power
Functionalities
Master/Slave parallel and series operation with voltage and current sharing
Voltage and current control with 10-turn potentiometers
For laboratory use or optional 19" rack mounting
Convection cooling
Specifications
Input voltage (single phase): 90-265 VAC (48-62 Hz)
Active Power Factor Correction (PFC): 0.99 / 0.83 (at 100% load)
Efficiency: up to 84% (at full load)
Output ripple and spikes: from 0.5 mVRMS / 8 mVPP
Regulation: from 5 mV (0-100% load step)
Recovery time: from 100 µs (50-100% load step)
Programming speed: from 7 ms (10-90%)
Analog programming accuracy: from 0.2%
Output voltage and current stability: 10.10-5 / 10.10-5
MTBF: 500 000 hrs
Operating ambient temperature: -20 to +50 ºC
Standards
Emission: EN 61326-1 (class B equipment, for use in domestic establishment)
Immunity: EN 61326-1 (equipment for use in industrial and domestic establishment)
Safety: EN 60950-1 / EN 61010-1 / cTÜVus
Insulation input / output: 3750 VRMS (1 min.)
Protection class: IP20
Dimensions and weight
Width: half 19 inch
Height: 66 mm (incl. feet)
Depth: 202 mm
Weight: 1.7 kg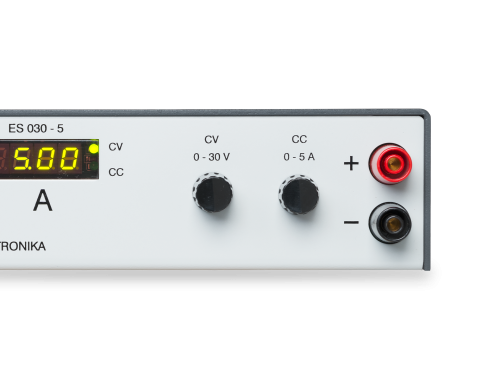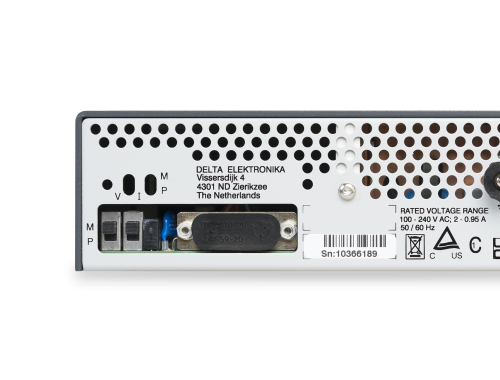 Options
Optional factory installed features
Rear Power Output and Remote Sensing
Output terminals at the rear panel instead of binding posts at the front panel, includes remote sensing. For more information, download the data sheet ES150 series (see pages 1-5 & 1-6).
Increased Output Power
For conservatively rated units, extra output power (with the same reliability) is allowed. At some derating, either the maximum output voltage or current of these units can be increased by about 10%. Contact us or our local distributor for information which units extra output power is allowed.
Secured Voltage and Current Setting
For maximum security the settings for CV and CC can be adjusted with a screwdriver only and are protected with a plastic cap from accidental adjusting.
Software Control and Interfaces
Factory installed programming interfaces*:
* there is room for only one of the interfaces in a unit
Interfaces
Add-on interfaces to be added at any time