Programmable flexible DC power supply
The SM3300 Series consists of power supplies with excellent efficiency, stability and flexibility. Thanks to the auto-ranging power output, one power supply can cover two ranges of traditional power supplies with an rectangular VI-curve. For even more flexibility, the SM3300 series can be used at both single phase as three phase grid power.
Standard, the SM3300 series can be controlled via the front, web interface or ethernet. This connectivity can be expanded at any time by our interface cards. Furthermore, the Master/slave interface allows parallel operation of up to 8 units.
cTUVus Certification
The SM3300 series is certified according to the UL 60950-1:2007 R12.11 standard. This certification by the reputable TÜV Rheinland is a confirmation of the high safety and quality standard of Delta Elektronika. This certificate combined with Delta Elektronika's reputation of long term product availability and product support turns the SM3300 series into excellent power supplies for larger systems. 
| Unit | Voltage | Current | VI-curve |
| --- | --- | --- | --- |
| SM 18-220 | | | |
| SM 66-AR-110 | | | |
| SM 100-AR-75 | | | |
| SM 330-AR-22 | | | |
| SM 660-AR-11 | | | |
Features
Designed for long life at full power
Excellent dynamic response to load changes
Protected against all overload and short circuit conditions
EMC surpasses CE requirements: low emission and high immunity
Low audible noise: fan is temperature controlled
Automatic coarse and fine adjusting buttons
Functionalities
Operation on single and three-phase input voltages
Standard Ethernet Interface including sequencer
Large user display, menu-driven operation
Durable digital encoders for voltage and current adjustment
Plug & Play optional interfaces
Specifications
Input voltage (single and 3 phase): 180-528 VAC (single or 3 phase 48-62 Hz), derating at low input voltage
Active Power Factor Correction (PFC): up to 0.99 (at 100% load)
Efficiency: up to 92% (at full load)
Output ripple and spikes: from 3 mVRMS / 12 mVPP
Regulation: from 2.5 mV
Recovery time: from 100 µs (50-100% load step)
Programming speed: from 1.6 ms (10-90%), optional from 0.2 ms
Output voltage and current stability: 6.10-5 / 9.10-5
MTBF: 500 000 hrs
Operating ambient temperature: -20 to +50 ºC
Standards
Emission: EN 61326-1 (class B equipment, for use in domestic establishment)
Immunity: EN 61326-1 (equipment for use in industrial and domestic establishment)
Safety: EN 60950-1 / EN 61010-1 / cTÜVus
Insulation input / output: 3750 VRMS (1 min.)
Protection class: IP20
Dimensions and weight
Width:19 inch
Height: 2 U
Depth: 455 mm
Weight: 15 kg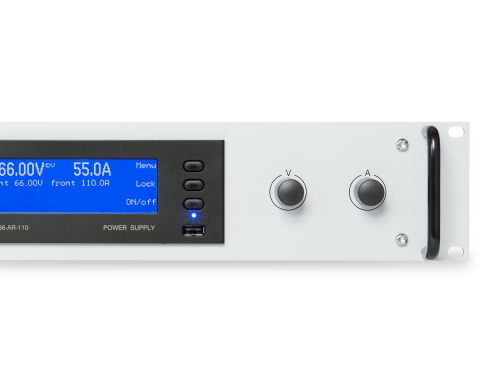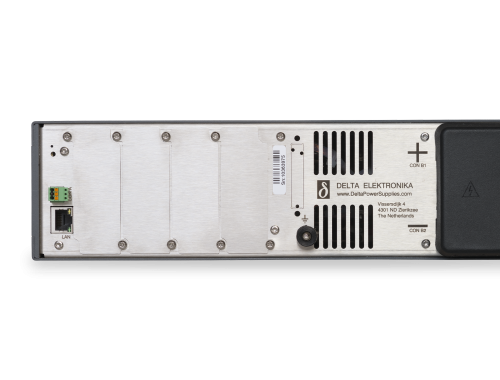 Options
Optional factory installed features
High Speed Programming
A 10 to 20 times higher programming speed and lower output capacitance. Excellent for laser applications, fast test systems or as current source with low parallel capacitance as used in plasma chambers. For more information, download the data sheet High Speed Programming.
2-Quadrant Output: Power Sink
The 2-quadrant operation maintains the output voltage constant regardless the output power is positive or negative. Ideal for PWM-speed controlled DC-motors and ATE-systems. For more information, download the data sheet Power sink.
Interfaces
Add-on interfaces to be added at any time