Flexible High-Power Systems
High-power systems can be configured up to 900 kW using the SM15K series with Master/slave interface cards and assembly kits. The advantage of this modular solution is its high flexibility, as systems can be assembled or disassembled in minutes. The master unit can be used to configure the entire setup via front, web interface, or Ethernet. This connectivity can be expanded at any time by our interface cards. 
Bi-directional operation
A high-power system is standard equipped with regeneration technology: Next to supplying the DUT with power, a high-power system allows the DUT to deliver full power back to the grid. This enables highly efficient and compact test setups for battery, PV, and inverter applications.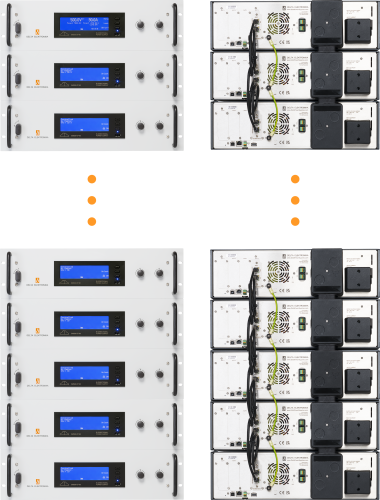 | Unit | Voltage | Current | VI-curve |
| --- | --- | --- | --- |
| SM 70-CP-450 Master/Slave System at 60 units | | | |
| SM 210-CP-150 Master/Slave System at 60 units | | | |
| SM 500-CP-90 Master/Slave System at 60 units | | | |
| SM 1500-CP-30 Master/Slave System at 60 units | | | |
Features
Bi-directional system with up to 900 kW symmetric source and sink
Easy Master/Slave parallel operation up to 60 units
High efficiency of more than 95% at full load
Output kits for parallel and series output configuration are offered
Power Regeneration Technology: in sink mode, the PSU returns the energy back into the grid
Flexible output provided by Constant Power characteristics
Excellent dynamic response to load changes 
Including all-digital control to adapt regulation to match load type
Designed for long life at full power
Protected against overload and short circuit conditions
Functionalities
Multiple SM15K units behave as one power supply
Operation on a wide range of 3 phase AC input voltages
Master-Slave operation up to 900 kW
Interaction through display menus or web interface
Interfacing is extendable by using plug-and-play cards
EMC surpasses CE requirements: low emission and high immunity
Low audible noise: temperature controlled cooling fans
Parallel output operation up to 60 units for all unit types
Series output operation only for SM500-CP-90, up to 6 units
Specifications
See the specifications of a single SM15K unit
Recovery time: 2x the values of a single unit
Ripple and noise: values of a single unit
Programming speed: 2x the values of a single unit
Operating temperature: -20 to +50 ºC
Standards
Emission: EN 61326-1 (class B equipment, for use in domestic establishment)
Immunity: EN 61326-1 (equipment for use in industrial and domestic establishment)
Safety: EN 60950-1 / EN 61010-1
Protection class: IP20
Dimensions and weight
Width: 19 inch
Height: > 6 U
Depth: 591 mm
Weight: > 54 kg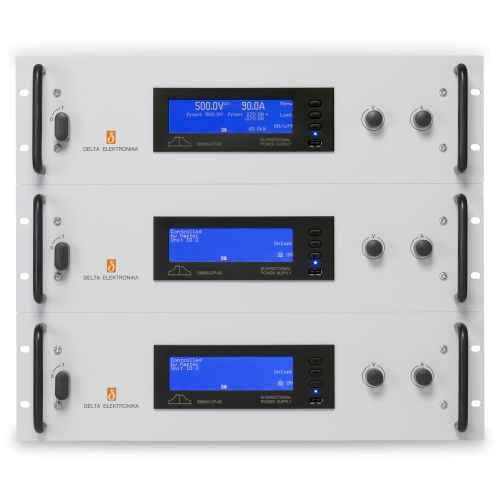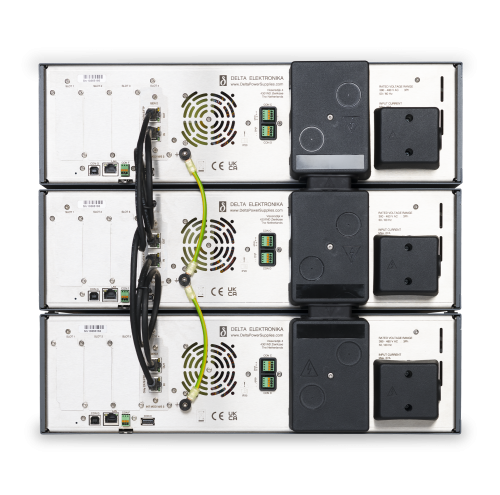 Interfaces
Add-on interfaces to be added at any time